The Instrumental Metallica Experience- For All Ages!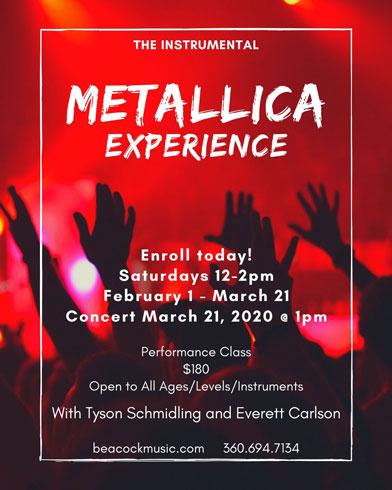 Saturdays from 12:00pm-2:00pm
February 1st-March 21st, Concert March 21st at 1:00pm
Instructed by Tyson Schmidling and Everett Carlson
$180 for this fun class!
All ages, instruments, and abilities welcome!

Mark your calendars - you're invited to the Instrumental Metallica Experience! This performance class blends the rock band experience with orchestral and band instruments, fusing Metallica's iconic sound with the symphonic instrumentation of strings, woodwinds, and brass. The core of this ensemble is made up of the hard rock sounds of drums, guitar, bass, and keyboard! We encourage students to step out of their traditional ensemble pieces and play the violin, trombone, saxophone or anything else – if you want to experience Metallica we can adapt the material to include you! Like most collaborations with symphonies and orchestra-infused renditions, songs will be broken down and explored through the lens of heavy metal speed and technology.

In this class participants will explore;

Road maps to music: Every musical genre has a way to communicate. Classical, jazz, rock, blues and others have their own terminology specific to its own genre. Coda signs, repeat signs, 1st and 2nd endings etc. are tools for musicians to keep track of where everyone is in the song. Equalizing and blending the tone and volume of instruments as well as effective verbal and nonverbal communication with your bandmates will be explored.

Heavy metal fundamentals: Exploring types of Rhythm, chords, and notes that are used in this genre. Learning what Palm mutes are and how important to the style of Metallica. Distortion and effects will be covered and how emulate those sounds with string, horn instruments etc..

This workshop series is designed for all ages and abilities! Everyone will be able to participate and perform in the concert! Students can be reading traditional music notation, tablature, or playing by ear.

Parts will be arranged for each instrument and the student's skill level.

Open to keyboards, guitars (acoustic and electric), bass, string instruments, brass, woodwinds and drums. Students can swap instruments per song so multiple instrument players are welcome.

*Note: The class is instrumental only and appropriate for all ages. Vocal parts will be adapted to suit the instruments used by the students.
Email Education Center with Questions
If you are interested in this fun class, please fill out the form below and the Education Center will contact you!