The Bowie Experience- For All Ages!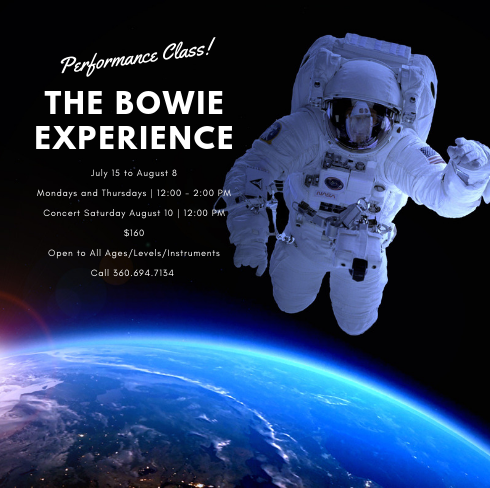 Monday and Thursdays 12:00-2:00pm
July 15th-August 8th, Concert Saturday August 10th at 12:00pm
Instructed by Tyson Schmidling and Joe Haegele
$160 for this fun class!
All ages and abilities welcome!
Open to Keyboardists, guitarists (acoustic and electric), bass, string instruments, brass, woodwinds, and drums. Students can swap instruments per song so multiple instrument players are welcome!
David Bowie offered exceptional music in a wide range of styles over his long musical career. The Bowie Experience workshop will give insight on his music and his collaborations with other musicians such as Freddie Mercury, Mick Jagger and guest artist Stevie Ray Vaughn.
In this class participants will explore;
Road maps to music: Every musical genre has a way to communicate. Classical, jazz, rock, blues and others have their own terminology specific to its own genre. Coda signs, repeat signs, 1st and 2nd endings etc. are tools for musicians to keep track of where everyone is in the song. Equalizing and blending the tone and volume of instruments as well as effective verbal and nonverbal communication with your bandmates will be explored.
Improvisation: Students will have the opportunity to learn the basics of rock improvisation and how to improvise. Soloing students will be shown how to use scales for improvisation and a concept called comping for chord players.
This workshop series is designed for all ages and abilities! Everyone will be able to participate and perform in the concert! Students can be reading traditional music notation, tablature, or playing by ear.
Parts will be arranged for each instrument and the student's skill level. (Suggestion are welcome so don't be shy.)
Songs may include:
Under Pressure
Starman
Dancing In The Streets
Space Oddity
Rebel Rebel
Let's Dance
Fame
Email Education Center with Questions
If you are interested in this fun class, please fill out the form below and the Education Center will contact you!