Meet our Musical Instrument Repair Staff! Our Instrument Repair Department is open 7 days per week to better serve you! Located in Vancouver, Washington, minutes away from Portland, Oregon, we have the largest and highest trained repair staff in the Pacific Northwest!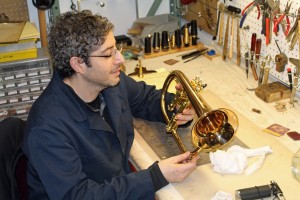 Dan Goore
Dan joined Beacock Music in 2012. He's our primary resource for unfretted instrument repair, but he's also skilled in brass and woodwind repair. A NAPBIRT member, Dan worked as a technician in Florida for many years and further refined his skills as a technican for the Clark County School District in Las Vegas, Nevada. He's also been a bass player for many years!
---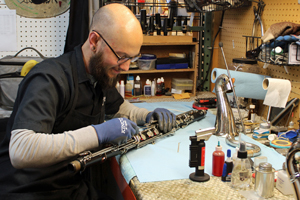 Ben Harrison
Ben has worked at several small "mom and pop" music stores in Southern California since June, 2006. While in California he worked in several different departments managing, delivering instruments to schools, and repairing rental fleets. He also taught private drum lessons! After working at three different stores in California he went to RTC and graudated in 2011. He is a Shokunin certified woodwind and brass technician. He started at Beacock Music in August of 2015, and specializes in woodwind repair. When he's not working, Ben enjoys hiking and camping with his wife and dog.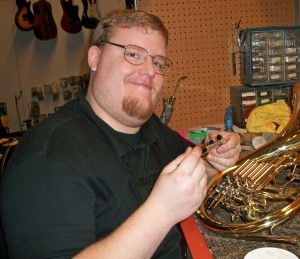 Alex Anicker
While Alex is our newest technician, he's actually been a member of the Beacock Music family since 2008, when he began working as a shop assistant while attending Clark College. In this position, he demonstrated a high aptitude for repair and developed a keen interest in learning the trade. After completing his studies at Clark in 2012, he transferred to Renton Technical College, where he completed the certificate program in Band Instrument Repair Technology in June 2013.
As our resident low-brass geek, Alex plays tuba, trombone, and euphonium. We're pleased to have him back with us. He's rapidly expanding his skills as he works alongside our senior technicians, who find his quirky sense of humor a great asset!
---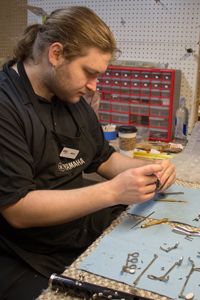 Nicholas Harlow
Nicholas was raised in Olympia, Washington before going to Washington State University to receive a BA in Music. He's taught piano, guitar, and bass lessons for 8 years, and performed regular gigs in the Palouse. Outside of music, he enjoys reading and cooking. Nicholas specializes in brass instrument repair.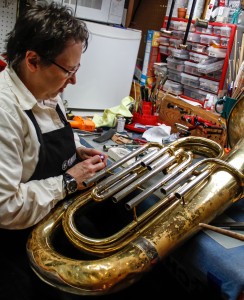 Wendy Daugherty
Wendy joined the Beacock Music repair staff as a woodwind and brass technician in 2004. She received her initial repair training from James Walker, director of the Institute of Metal Repair, during the 1980s and has updated and broadened her repair skills through attendance at NAPBIRT-sponsored repair conferences and clinics over the years. Wendy played alto and baritone saxophone while attending the University of California, San Diego, and has put her English degree to good use as an editor for TechniCom, NAPBIRT's technical journal.
---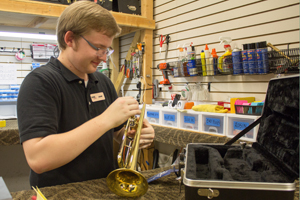 Adam Anicker
Adam joined Beacock Music as a shop assistant in October, 2014. Prior to joining the instrument repair shop, he helped out during a couple of rental seasons, making the process of renting an instrument as easy as it could be.
Adam specialized in playing the trumpet, with some experience playing euphonium and trombone.
---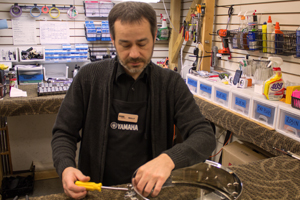 Walter Webb
Walter, known around here as Wally, joined Beacock Music in October, 2014. He was a standard during our instrument rental season, where he helped students find their perfect instrument! He is excited to be a permanent member of our Repair Department. Walter has played drum kit for 25 plus years. He has also picked up on playing guitar over the last few years. Although Wally is mainly a rocker, he enjoys R&B and funk as well. As a shop assistant, Wally is often the point of contact for our repair customers, who appreciate the consistently excellent service he provides.